Customer satisfaction
In order to properly define and measure customers' satisfaction and loyalty levels, it is necessary to know the customers. Customer satisfaction research consist of a detailed analysis of customer behaviour supported by a measurement tool – a questionnaire or survey.
What is the level of satisfaction of my customers?
What causes lower customer satisfaction? What areas of my company's operations require improvement?
What are the sources and limits of customer loyalty? How to retain customers? What customer groups are at the risk of migration?
Satisfaction measures allow comparison over time and the assessment of sales and marketing departments. Customer satisfaction research allows the identification of the strengths and weaknesses of a company as perceived by customers, as well as the definition of the areas most highly valued by customers. Moreover, it allows a focus on improving the quality of services/products, expanding the product mix and tailoring the products to customers' expectations. In general, satisfaction is strongly correlated with loyalty. However, it is not always easy to find straightforward similarities between the two. That is why it is worth analysing these two phenomena together with the customer satisfaction level. Satisfaction is the key to gaining customers' loyalty.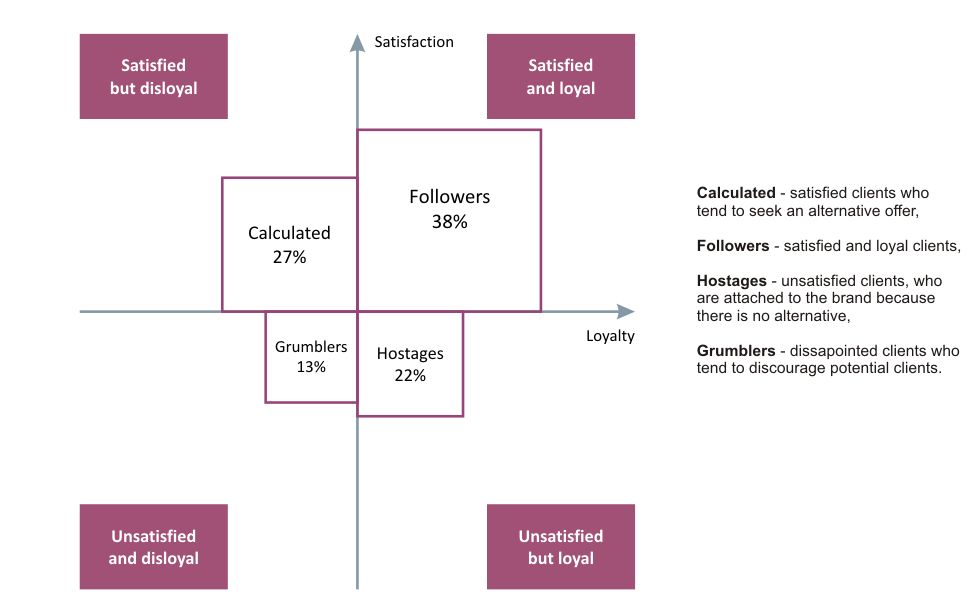 As seen in the figure above, it is possible that despite a high level of satisfaction with products and services customers show a low level of loyalty. In order to understand the nature of this phenomenon, target group research is recommended, revealing consumer behaviour patterns, e.g. who regards seeking the latest products in a given product category as more important than product satisfaction or attachment to a given brand.
Our offering
The study helps define key features of customer satisfaction in a given product category. It also produces a report presenting the brand's position relative to competitive brands in terms of main satisfaction building qualities.
How do we deliver
Most often, the customer satisfaction research starts with a qualitative analysis based on focus group interviews (FGI) conducted with users of a given product category as well as users of products from the researched offering (of a given producer). After defining the key qualities of satisfaction, the Research PMR team progresses to the quantitative part of the study, in which percentage indicators show individual qualities of satisfaction and a global indicator is produced.