Free e-newsletters
Free html monthly e-newsletters for Central and Eastern Europe, as well as for Commonwealth of Independent States include up-to-date market information about Poland, Russia, Bulgaria, Czech Republic, Hungary, Kazakhstan, Romania, Slovakia, Slovenia and Ukraine. Each issue of the e-newsletters contain the latest available news, analyses, forecasts and expert comments.
To receive the selected e-newsletters, please sign up.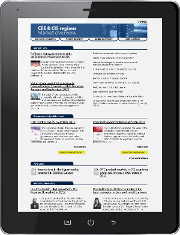 1E-mail
(to send requested information)
2Brief profile
(required for new e-mails only)
PMR Research offers market research services of top quality tailored to meet individual needs of our clients, including B2B and consumer research and industry analysis. We are specialised in providing top-rate market information to companies interested in markets in Central and Eastern European countries. PMR Research is a specialised branch of PMR, a British-American company providing business publications (PMR Publications), consulting services (PMR Consulting) and market research services (PMR Research).
Copyright © 2017 PMR
All rights reserved